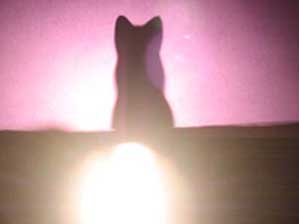 Earlier this morning I was having a lively discussion within our Canadian paranormal Facebook group on the topic of ghosts, our pets, and the possibility of an animal afterlife.  This is a topic that is dear to many of our hearts. Anyone who has loved an animal and believes in an afterlife would want the reassurance that their animal companion also survives in some sense after their bodily death.
Christopher Laursen has written an excellent article on this topic entitled "Why Not An Animal Afterlife?" in which he shares a personal experience. I too have written on Animal Apparitions that includes my experiences with a ghostly cat. My own encounter was not with a beloved pet, but perhaps a former resident of my 1920s home.
Over the years we have collected numerous accountings from people who have had an experience with what they believe is the spirit of an animal that has passed on.  Just recently I published an encounter to the PSICAN website that is typical of the type of reports we receive.  I entitled the article "A Family Dog Says Good-bye" because that is exactly how the witness described their experience .
While reports of ghostly cats and dogs are quite common I would be interested in hearing about similar encounters with other types of animals that we might form a close bond with such as horses, birds, or smaller mammals.
I have wondered about the possibility of non-domestic animal apparitions. I do not believe I have ever received a report of a ghostly coyote, moose or other wild creature, but if pets can haunt, why not wildlife?
It is my opinion that if human consciousness can survive bodily death then it stands to reason the consciousness of all living things must survive too.
Cheers!
Sue