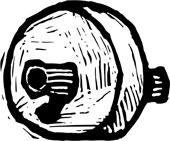 One of our strongest arguments in the case for the paranormal is simply one of You asked us to prove what has been witnessed or experienced happened, why not prove how it could not have happened as well? Basically, the onus is on any claim to produce evidence...
A quick aside... Carl Sagan used to often quote Marcello Truzzi's famous statement, "Extraordinary claims require extraordinary evidence." What Sagan often forgot to add... other than he stole the phrase... is that later in life, Truzzi left the sceptical organisation he help found as they had gone from "doubters" (a true scepticism) to "deniers" (poor science based on proclamation rather than actual study) and revised his comment as I have above... CLAIMS (of all sorts) REQUIRE EVIDENCE.
Problem is, that's fine when one witness makes a singular claim about one experience.
...but, more often than not, non-believers cloaking themselves in the word "sceptic" will knee-jerk and claim all experiences are bupkiss.
Ergo: The claim is now theirs... and they must produce evidence to back up that claim.
Simple enough... and literally all the scientists, doctors, and generally people with an IQ over 46 that we've spoken to agree that a "knee-jerk" denial is inappropriate without some sort of empirical data to substantiate it.
One of the common things we hear when we toss the Prove it's all nonsense challenge at so-called (incurably stupid) sceptics is, You can't prove a negative.
Sorry? Come again? Didn't quite catch that...?
You can't PROVE a negative???
Bad news folks, when these scientists clock out this argument, vacuums just ceased to exist.
Something else to consider, and this could go on a history blog, but do you know what some anthropologists consider the sign of an advanced civilization? The realization of those people of the concept of "zero".
...think about that.
Remove ALL your logic and learning... what is "nothing"? How would you describe "nothing"? How would you show a symbol for not having anything? Showing SOMETHING is easy, but what about nothing...?
...and if we have nothing in a VERY basic society, would we bother to account for it? Would we need to document "nothing" if we were at a very fundamental survival level?
We take it for granted now, but the idea of building a symbol or even a word to describe "zero" is a rather impressive philosophical and logical step...
...unless you're a so-called sceptic who feels that it can never be done...
...in which case, let me catch you folks up... the secret is to bang the rocks together.
If coming to the idea of "zero" is so important to the building of an advanced society, what do you think about intergerial mathematics?
Dave, the normal person, owes Bob, the so-called sceptic, ten dollars... but Dave only has seven dollars... How much money does Dave theoretically have?
...according to some, Dave cannot exist... the money cannot exist... Bob cannot exist... because you cannot prove a negative!
Next time one of these wizened veterans of the "sceptical" trade spew forth the concept that proving negatives is impossible, I may give them my credit card company's numbers... I'll be debt-free in a puff of bad logic!
Scientifically, mathematically, and logically, you CAN prove a negative... so this is a moot argument... and now, thanks to this post, when someone makes that claim, I'm just pointing them here to have a read... and perhaps, learn something about the basic principals of science, logic, and yes, advanced society...
...and then, perhaps, they will start banging the rocks together and catch up with the rest of us.